*NO swearing-they use the words "Fox dung!" and "Mouse dung!" instead.
*NO drama in real life on here-leave that to the RP. Whoever starts a fight on this wall will be kicked out if it's bad enough.
*THESE ARE WARRIOR CATS! They WILL fight!! But, do not get too gory-no one likes a lot of blood.
*If you have a cat that you're not happy with, come to me(Singer2542) to change your cat and/or get another character.
*We're here to have FUN! Not to get into fights with everyone here!
*You HAVE to use () when talking in real life on the wall. These are used if you want to clear something up, or if you just want to add a little comment.
*When your cat is talking, please use " " when starting and finishing a quote-this makes it easier for other players to read your post on the wall.
*Medicine Cats can NOT have mates, kits, or crushes. If they do, the relationships will NOT work out(If you are doing this just to make the RP dramatic, tell me).
*FEMALE leaders can NOT have kits-they will be too busy to care for them anyways.
*These cats have territories-there is NO trespassing unless there is trouble and even then it is best not to trespass. There is also NO hunting in other clan's territory-it is against the Warrior Code.
*There is a gathering every full moon, and there is a truce between the 4 clans at that time only, so there is NO fighting(but there can be arguing) at any gathering.
If you are a warrior, they don't need learning from another player(or yourself if you are the cat trying to teach a warrior). They already know the stuff they need to know and eventually will mentor their own apprentice.
*APPRENTICES DO NOT KNOW HOW TO DO WHAT WARRIORS DO!!!! When they are finished with being an apprentice, their leader will make them a warrior.
Deputy: Brambleclaw(taken)
Medicine Cat: Leafpool
(taken)
Goldenflower(female, open)
Longtail
(male, open)open)
Medicine Cat: Littlecloud (taken)
Leader: Onestar
(male, open)
Deputy: Ashfoot
(female, open)
Medicine Cat: Barkface(male, open)
Morningflower
(female, open)
Leader: Leapardstar
(taken)
Medicine Cat: Mothwing
(taken)
Stonestream
(female, open)
Then, comeplete the form:
Personalty: Brave, smart, firendly
Kits: Squirrelflight and Leafpool
Rank: Leader of ThunderClan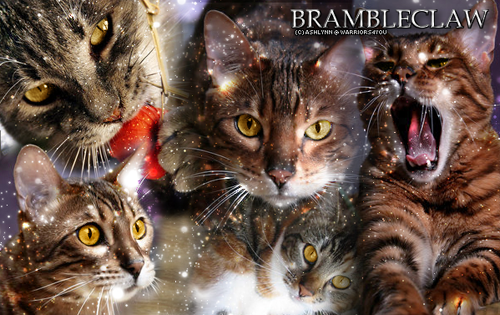 Personality: Brave, loyal, smart, kind, a little bossy, is a VERY good fighter
Kits: Jawpaw, Hollypaw, Lionpaw
Personality: Stern, Determined, Kind
Played By: Ishabella2/AllyTheAwesomeOne
Personality: Difficult, nice, smart, brave, flirty
Kits:
Jawpaw, Hollypaw, Lionpaw
Rank: Leader of RiverClan
Kits: Squirrelflight and Leafpool
Personality: Kind, caring, smart
Kits: Cinderkit, Honeykit, and Poppykit
Rank: Queen(at the moment)
Personality: Adventurous, brave, likes to learn
Rank: RiverClan Medicine Cat
Personality: Rude, a rub it in your face kinda cat, stern
Rank: Leader of ShadowClan
Personality: Flirty, Outgoing, troublemaker
Rank: ShadowClan Medicine Cat
Rank: WindClan Medicine Cat
Played by:
None(the one who wanted to play him left the group)
Rank: ThunderClan Warrior
Rank: ThunderClan Warrior
Name: Brook(Where Small Fish Swim)
Rank: ThunderClan Warrior
Rank: RiverClan Apprentice
Rank: ThunderClan Warrior
Personality: Only nice to Brambleclaw(his half-brother), rude to other cats who don't agree with him, loyal, bloodthirsty, want to be leader of RiverClan, strong, smart, VERY good at fighting
Personality: Kind, stern, good with kits and apprentices
Rank: Deputy of RiverClan
Personalty: Fiery, snappish, conflicted and angry
Crush: None

Mate: None

Kits: None

Rank: Medicine cat apprentice

Personality: Kind, caring and stern to kits, a great friend
Rank: ThunderClan Warrior